NATIONAL CONSULTATION FOR YOUNG KEY POPULATIONS IN TIMOR LESTE
Posted on Oct 8, 2021

YKP National Consultation 27th & 28th September 2021
In December 2019, under the Sustainability of HIV Services for Key Populations in Asia Program (SKPA Program), Youth LEAD, in partnership with Estrela+ and UNFPA Timor Leste, conducted a four-day training on Youth LEAD's standard manuals, the NewGen leadership manual, and the YKP Programming Toolkit. The training was further built off of the outcomes of the regional ToT in November 2019. After the training, the YKP participants decided to form a group called Youth LEAD Timor Leste to improve and advocate for YKP friendly services. In 2020, they established Estrela+ as their fiscal host, and one of the key action plans was to hold a National YKP consultation to develop the work plan and inform stakeholders of YKP needs. However, the world came to a standstill during COVID-19 and, like many activities under the SKPA program, was put on hold.
In the third quarter of 2021, when vaccination rates in Timor were increasing and restrictions decreasing, Estrela+, Youth LEAD Timor Leste, and the Youth LEAD Secretariat came together once more to follow through with the YKP National Consultation that was held earlier this week in Dili. Thirty-eight YKP participants (many from the previous training) attended along with stakeholder engagement from Estrela+, the National Department of HIV, the MoH, the KPC, and CODIVA.
Consultation Objectives:
● To discuss YKP priorities and needs in the HIV context, especially during COVID-19.
● To establish relations between YKP groups and vested stakeholders.
● To have an agreed-upon work plan between YKP groups and stakeholders in order to improve the accessibility of services for YKPs in Timor Leste.
● To discuss the legal registration of Youth LEAD Timor Leste.
"This consultation was very beneficial for me, to improve my capacity and understanding about youth-led programs and how to create organizations that involve young key populations. Also to know about safe sex during the group discussions."
-FSW, Youth LEAD Timor Leste member.
The two-day consultation consisted of presentations from the stakeholders on the HIV landscape for KP and YKPs in Timor Leste, refresher discussions and experiences from the previous training, and a breakdown of HIV YKP programming in Timor, where participants noticed that there wasn't a strong presence of a YKP organization in Timor Leste since their last training. This shaped their primary focus for the second and final day of the training, strengthening the newly formed Youth LEAD Timor Leste by agreeing on key priorities, network structure, vision, and mission.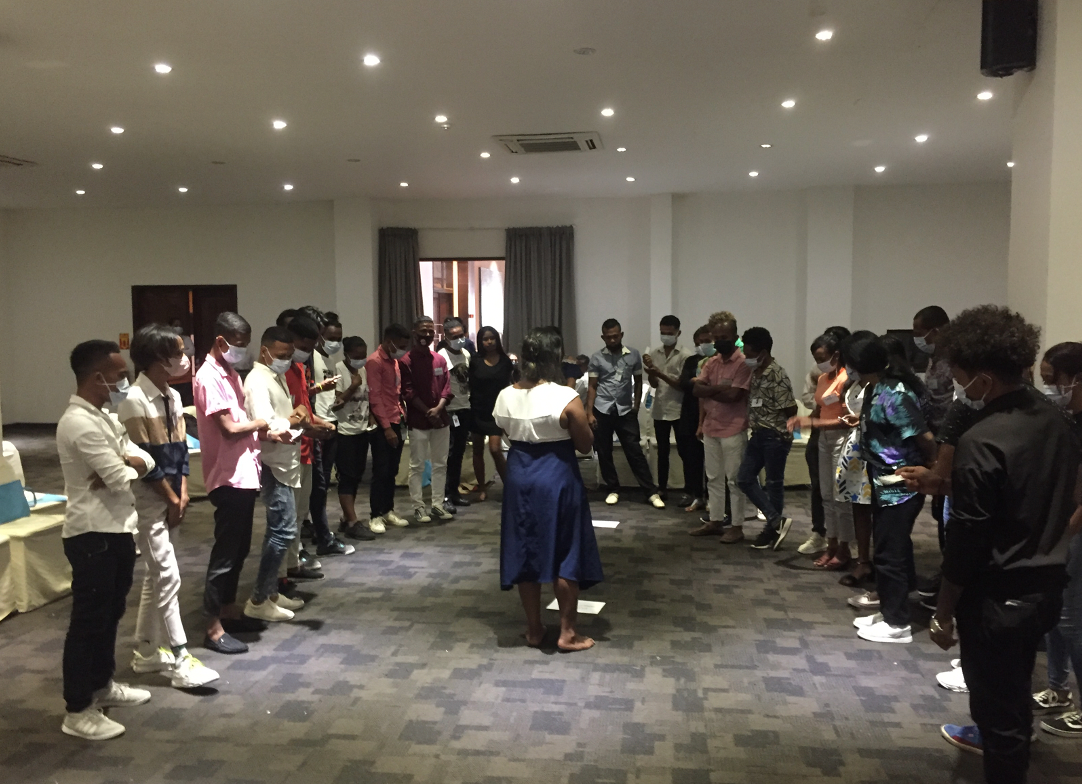 VISION
"Imagine a Timor where all young people are inspired and equipped to realize the future they want."
MISSION
"To connect the young people of Timor Leste with opportunities to freely access SRHR and HIV services and platforms to enable them to make and influence decisions affecting their lives."

"A lesson that I have learned in this consultation is about the vision and mission of Youth LEAD Timor Leste, because a good vision and mission can make good relations between young people and young key populations." -KP Consortium member and peer educator.
The Youth LEAD Timor Leste working groups and stakeholders then cemented the next steps for the YKP group, which included organizational strengthening through Youth LEAD's Organizational Development and Change Manual, stakeholder specific capacity building workshops with the working groups that Youth LEAD Timor Leste would further extend to the YKP community, and another meeting to commence the registration process for Youth LEAD Timor Leste.
"In this consultation, I learned about HIV prevention, stigma and discrimation, how to create an organization that respects others' human rights and also HIV and MHRS prevention.." -Trans youth participant.
To learn more about Youth LEAD Timor Leste and its programs, contact Zizi (zizinhabelo@gmail.com), National Youth LEAD Timor Leste Coordinator, or Ikka (ikka@youth-lead.org), Youth LEAD Advocacy Officer.
Edited by: Daniel Roy, Timor Leste YKP National Consultation Rapporteur; Vanessa Monley, Programme Officer at Youth LEAD