Socio-economic impact and social protection for YKPs and YPLHIV in time of COVID-19
Posted on Aug 14, 2020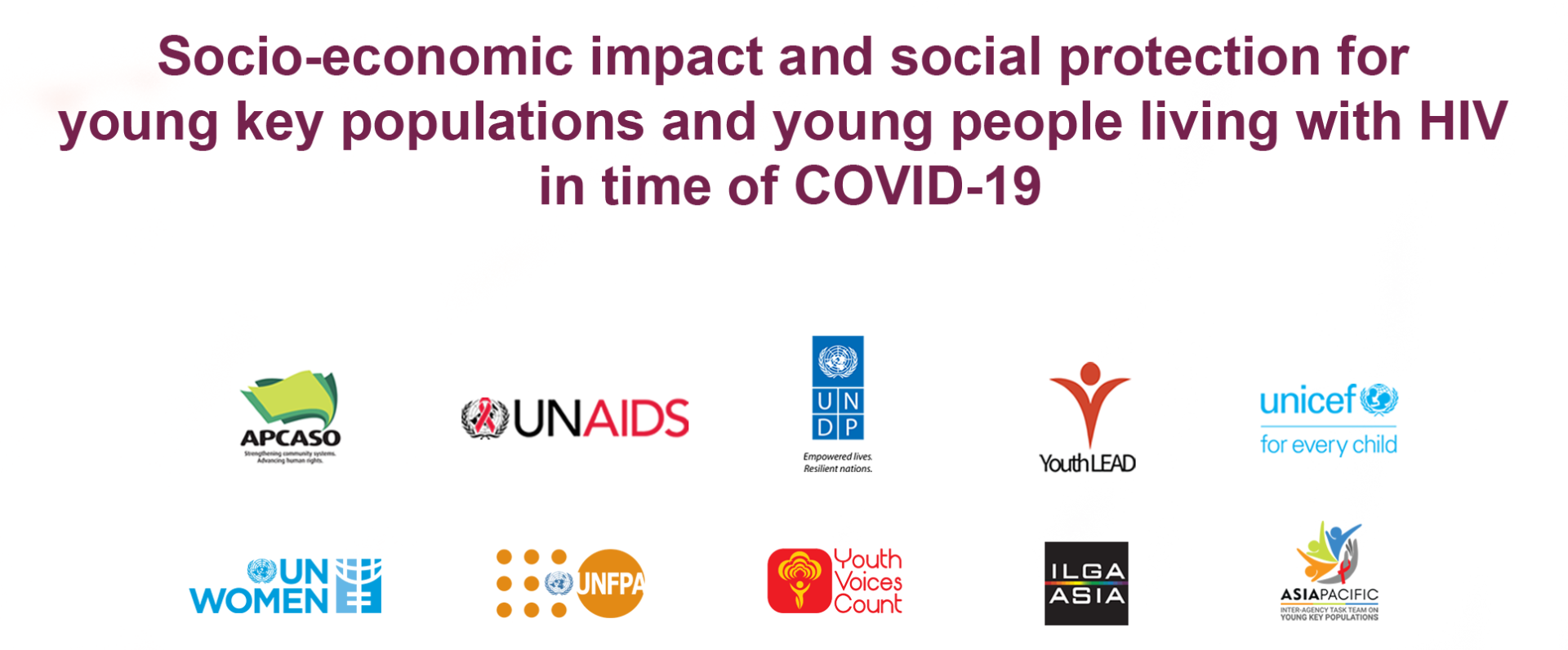 The COVID-19 pandemic is affecting the lives and livelihoods of people everywhere, but the impact is especially severe among people who are socioeconomically disadvantaged and marginalized and among people with underlying medical conditions.
Young people are particularly vulnerable to the disruption the pandemic has caused, and many are now at risk of being left behind in education, economic opportunities, and health during a crucial phase of their development. For young key populations (YKPs) – including young people living with HIV, young gay men and other men who have sex with men, transgender youth, young sex workers, young people who use drugs, young migrants and prisoners – already facing challenges and disenfranchisement from the wider community, the hardships they face in employment, household settings, livelihood and social protections have been exacerbated by the COVID-19 pandemic.
The Interagency Task Team (IATT) on Young Key Populations (YKPs) in Asia and the Pacific developed a rapid assessment to shed light on how the COVID-19 pandemic affects the lives of YKPs and young people living with HIV (YPLHIV) and provide points of reflection about the socio-economic impact of COVID-19 and the access to social protection systems.
Findings from the rapid assessment reveal that restrictive measures meant to curb the spread of COVID-19 have hindered respondents' ability to do their work. 91.5% of respondents said that they were social distancing, more than 1/3 of the respondents stated that they were under mandatory quarantine. Nearly 40% of respondents indicated that they were under complete lockdown Of the respondents' concerns, the three most significant concerns included worry about their health, the health of their family members, and their loss of income. These concerns speak to the need for countries to have strong social protection measures in place to ensure the well-being of all their citizens and minimize economic hardships.
SOCIO-ECONOMIC IMPACT OF COVID-19 ON YOUNG PEOPLE
The Asia-Pacific region is home to more than 60 per cent of the world's youth, about 700 million young people. It is estimated that they account for half of the jobless people in the region[1]. The crisis has further heightened this vulnerability. UN DESA[2] foresees that, globally, the increase in unemployment as a result of COVID-19 is expected to exceed the rise in rates of unemployment in the aftermath of the 2009 global financial crisis. Without targeted policy intervention, it is likely that youth will again be disproportionately affected by a global recession, with a higher percentage of young people being unemployed compared to adults, and slower uptake of employment by young people during the recovery.
According to almost half of all the respondents, the restrictive measures implemented to curb the spread of COVID-19 led to a loss of income and employment. Widespread quarantines have left many YKPs, particularly those working in the informal economy, without a source of income. 45% of the respondents stated that they did not have access to food supply and 10% to clean water during the COVID-19 outbreak.
The global pandemic is also having an unprecedented impact on education systems all over the world, with far-reaching social consequences. These disruptions can negatively impact learning and consequently, graduation rates. School closures have a particularly adverse effect on poorer students and students without stable internet access at home. According to roughly 36% of the respondents, the restrictive measures implemented to curb the spread of COVID-19 prevented them from accessing school or college. This situation raises concerns about a long-standing negative impact that the pandemic could have on vulnerable youth, including gaps in education or delays in degree completion and difficulties in acquiring jobs.
WHY SOCIAL PROTECTION IS NECESSARY DURING A CRISIS
Social protection, including cash transfers, universal health coverage, and access to other basic services, is central to uprooting the inequalities that permeate societies, and COVID-19 has made these starkly visible today. As the International Labour Organizations (ILO) states[3], social protection measures are a necessary part of any adequate crisis response:
· Ensure that people can effectively access health care.
· Support job and income security for those affected by the crisis.
· Contribute to preventing poverty, unemployment and informality
· Bolster economic and social stability and peace.
· Are powerful economic and social stabilizers.
It is also equally important for governments to expand the populations that benefit from social protection coverage (horizontal expansion), and increase the amount transferred to beneficiaries (vertical expansion). In this sense, it is crucial that social protection measures take into account the particular concerns and needs of young people, especially those who are not included in family-based disbursements or employment-based social protection systems, such as young key populations who form part of the those with informal jobs sector or in the gig economy and young key populations. The policies implemented during a crisis should not only safeguard the livelihoods and financial security of youth in the short term but also serve as the basis for building resilient social safety nets that reduce the vulnerability of young people in the long term.
SOCIAL PROTECTION IN ASIA AND THE PACIFIC
In response to the COVID-19 pandemic, countries in Asia and the Pacific have sought to expand existing social security programmes or introduce new schemes, as advised by the International Monetary Fund (IMF)[4]. However, these efforts are still too small, have large gaps in coverage and fall short of appropriately reflecting the devastating impacts on the most vulnerable populations due to the COVID-19 pandemic. Young sex workers, those without a citizenship card, young LGBTIQ and young people who use drugs are usually not eligible to government assistance and are often discriminated against when trying to access them.
Despite those challenges, countries are stepping up and showing the way forward. For example, several countries have taken measures to enhance access to affordable health care, close gaps in social health protection and extend financial protection. Among them, Thailand, which has extended its Universal Health Coverage support to free delivery of medications from hospital to home for the whole population in the country, including people living with HIV. It applies for all type of medicines including ARV medications[5].
In view of the rapidly deepening economic consequences of the COVID-19 crisis, some governments have put protective measures in place to support their population through social assistance or cash disbursements. For example, Cambodia has launched a Cash Transfer Programme that aims to reach around 540,000 households living in poverty and respond to the needs of the most vulnerable groups, including people living with HIV[6]. The Government of Indonesia established a new scheme called 'Pre-employment Card Programme', that includes a mix of cash transfers and capacity building. Initial reports show that most participants of the scheme are between 18-25 years old.[7]
YKP-LED INITIATIVES TO MITIGATE THE SOCIO-ECONOMIC IMPACT OF COVID-19
The leadership and engagement of KP and YKP-led organizations remain central features of the COVID-19 response. In Asia and the Pacific, YK and YKP groups are leading efforts to ensure that COVID responses are rights-based and gender-sensitive, challenging misinformation and stigmatization, and delivering essential supplies to the most vulnerable and organizing local socio-economic support systems.
Among different efforts, Youth Lead, a member of the IATT on YKP, has established the COVID-19 Emergency Relief Fund, to support YKP programmes and initiatives across Asia and the Pacific. The Fund allowed youth-led organizations from 7 countries to provide food, cash relief and vital medicine packages to YKPs and YPLHIV immediately after the COVID-19 outbreak.
Along the same lines, APCOM has created #CoronaAPCOMpassion, an emergency relief mechanism to provide immediate responses needed by grassroots key populations who are significantly affected by the COVID-19 outbreak and corresponding government lockdowns. Young LGBTI is among the beneficiaries of the fund.
THE WAY FORWARD
While such efforts may minimize the difficulties faced by some in the time of COVID-19, to truly address the concerns of YKPs and YPLHIV, countries in Asia and the Pacific need to strengthen and expand their social protection systems and schemes so that they work for all. The crisis has illustrated the need to reaffirm the principles of social solidarity that underpin universal social protection, and its centrality to ensuring socially just societies.
Governments face a double challenge: containing the health pandemic, while at the same time coping with its economic and social impacts. These dire threats highlight the need for a strong and coordinated policy response. Further efforts will be necessary for those countries that do not yet have sufficient social protection systems in place, to ensure an immediate crisis response, and to sustain efforts in the post-crisis period. Where social protection systems are already in place, measures should include access to these schemes for all, inclusive of YKPs and YPLHIV, and all vulnerable populations.
The IATT on YKP has developed a set of recommendations with a specific focus on YKPs and YPLHIV targeting governments and other stakeholders to strengthen social protection systems as a critical response to the COVID-19 crisis, leaving no one behind.
RECOMMENDATIONS
The recovery path during the COVID-19 pandemic must include a new human rights-based, just and fair social contract between governments and people, and advocate for social safety nets with a broader reach, universal health insurance, and affordable access to digital connectivity, as the part of the new normal. Governments should remove legal and policy barriers, particularly age-related and age-based regulations, that impede the provision of discrimination-free social protections.
Measures should include access to national social protection schemes for all, inclusive of young key populations and young people living with HIV, that includes income support schemes and emergency social protection measures during the COVID-19 pandemic.
Governments should ensure there is continuity in learning by promoting high-tech, low-tech and no-tech solutions. Blended solutions that employ delivering text-based content via cellular networks combined with videoconferencing to those with access to high-speed internet and paper-based distance learning materials for families without any digital connectivity access should also be considered.
Young key populations and young people living with HIV should be included in the planning, implementation, and monitoring of social protection interventions an strategies to ensure that their needs are met in the response to COVID-19. Their creativity needs to be harnessed to ensure that those who are most marginalized and disenfranchised are included.
Continue to build skills and provide opportunities for YKPs and YPLHIV on employment and entrepreneurship.
Public-private solidarity and partnerships are critical to building resilient social protection systems that can weather shocks, create strategies for informal sector workers, and design a new generation of resilient, green jobs that support youth-led entrepreneurship.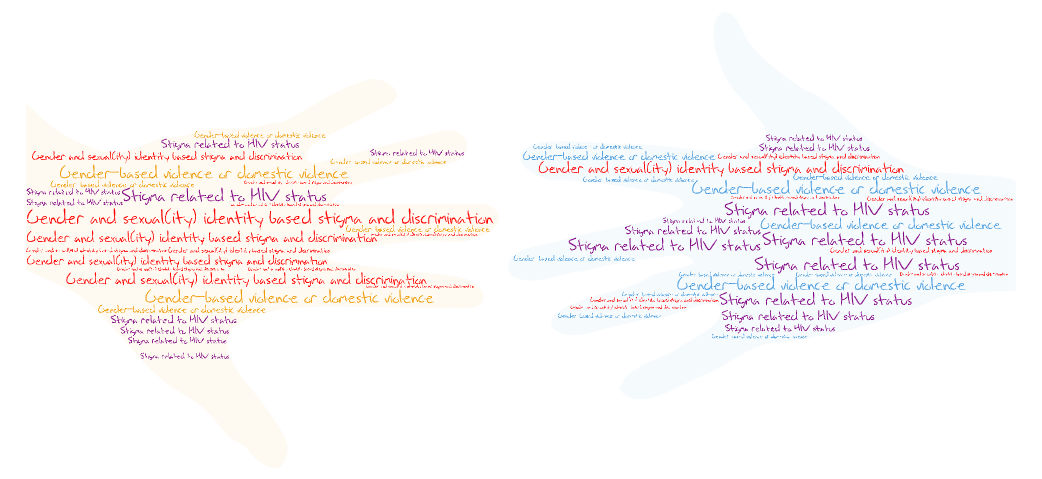 RESOURCES
"Building back better"[8] (UNDP, 2020): A tool to guide the next phase of COVID-19 crisis response, to help decision-makers look beyond recovery, towards 2030, and to manage the complexity and uncertainty in four main areas: governance, social protection, green economy, and digital disruption.
---
[1] https://www.undp.org/content/undp/en/home/blog/2020/protecting-young-start-ups-during-covid-19.html
[2] https://www.un.org/development/desa/youth/news/2020/05/covid-19/
[3] https://www.ilo.org/wcmsp5/groups/public/---asia/---ro-bangkok/documents/briefingnote/wcms_739587.pdf
[4] https://www.developmentpathways.co.uk/wp-content/uploads/2020/05/Social-Protection-and-Covid-19-in-Asia.pdf)
[5] https://www.nhso.go.th/FrontEnd/NewsInformationDetail.aspx?newsid=Mjc3MA==
[6] https://www.unicef.org/cambodia/stories/covid-19-cash-transfer-programme-helping-families-most-basic-needs
[7] https://www.ilo.org/wcmsp5/groups/public/---asia/---ro-bangkok/documents/briefingnote/wcms_739587.pdf
[8] UNDP (2020c). Beyond Recovery: Towards 2030.